E-bike insurance is not mandatory in most countries, but it's a very good idea to have it. The reasons are obvious- e-bikes are light, portable, high-value items which means e-bike theft is sadly all too common. If you use your e-bike as a daily commuter, parking it out on the street or inside a bus or train station may be unavoidable. Crashes or falls can damage your e-bike, and vandalism is always a possibility if you park on the street. The good news is that if you secure your e-bike properly, you can get e-bike insurance which covers theft and vandalism of your e-bike, giving you peace of mind.
You should expect to pay $100-$1000 per year in the US for e-bike insurance, depending on coverage required, deductible options and the e-bike's value.
In the UK, expect to pay around £120 per year and up for e-bike insurance, depending on your coverage, options, and bike value.
In Germany, you can get e-bike insurance starting around €90 per year, depending on the bike's value, coverage and options.
US Insurance Quotes
I did some research to get an idea of how much you might expect to pay in the US for a typically-priced new e-bike valued at $4000, based on someone living in Brooklyn, New York who uses their e-bike for commuting and for casual use. (I don't live in New York, but it seems that until recently it wasn't possible to legally use an e-bike in the city. For a place that suffers from traffic jams and air pollution, this seems to somewhat unbelievable, but I digress.)
Here are the sample criteria I used to get an insurance quote from Velosurance: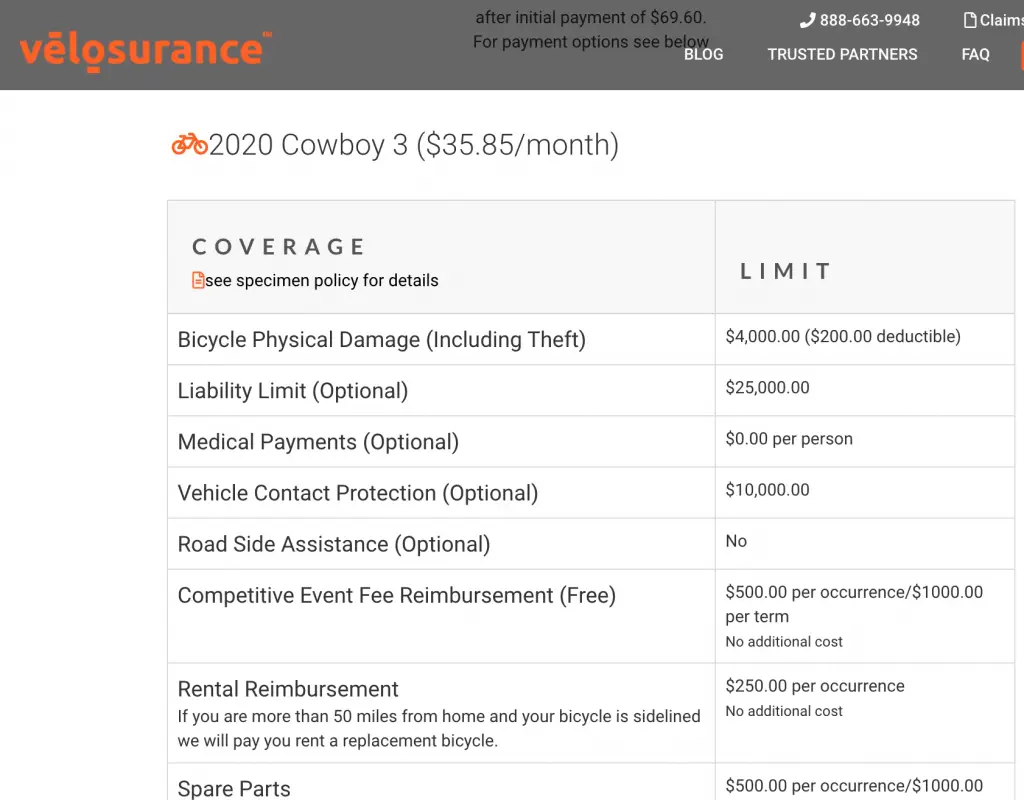 E-bike Brand: Cowboy
Model: 3
E-bike status: new
Value: $4,000
Replacement cost: $4,000
My profile: not a professional cyclist or triathlete
Homeowner?: Yes
Bike type: e-bike
Usage: commuter, casual
Deductible: $200
Worldwide coverage?: Yes
Roadside assistance?: No
Liability limits: $25,000
Medical payments: declined
Vehicle contact protection: $10,000
The total insurance cost for this sample scenario is $35.85 per month, or $430.20 per year. You are covered for theft – which pays out for the cost of replacing the e-bike minus a $200 deductible, for accidents and for damage to the bike's parts such as the chain or pedals. I opted out of extra medical coverage for this particular quotation.
This means for $430 per year, you have peace of mind over what happens to your e-bike that you use as your daily commuter or for fun. Keep in mind that this quote can vary drastically based on various factors such as where you live, the value of your e-bike, if you use the bike competitively or not, coverage required, deductible options selected, and so on. One of the factors that makes e-bikes worth having is their relatively low cost compared to cars or public transport, and that affordability extends to insurance too.
UK Insurance Quotes
To get a rough measure of how much you might expect to pay for e-bike insurance in the UK, I check the GoCompare website. GoCompare is a popular price comparison website for all kinds of products, including insurance. I used the following sample criteria on the GoCompare website:
E-bike Brand: Specialized
Model: unspecified
E-bike status: new, bought in June 2020
Value: £3000
Power output: < 250 Watts (above 250 Watts is classified as a moped, and is a different insurance class)
Pedal-assist speed: up to 15.5mph or 25 km/h, above this there is no electric assist
E-Bike storage: inside the home, never unattended when parked away from home (see e-bike storage tips here)
Insurance cover for travel to work? Yes (commuting is my most common use for my e-bike)
Insurance cover for competitions? No (I mainly use my e-bike for commuting and for fun, not competitively)
Insurance cover for commercial uses? No (this includes activities like deliveries, which isn't relevant for me)
Where in the world I have insurance coverage: Europe (options include the UK, Europe, or Worldwide). This means you can take your e-bike on holidays and are still covered
Public liability cover: £1m
Personal accident cover: £10,000
Legal expenses coverage? Yes
From my sample values, the quotes range from £151 to £221.88 per year, depending on the options selected. The insurance companies are Assetsure, Cycleplan, Eversure, YellowJersey Performance, and WeCovr. The cover includes a cover level for new for old, theft, public liability from £1m to £2m depending on the plan, legal expenses, and is valid either Europe-wide or Worldwide depending on the plan.
This means for all common uses like casual cycling and commuting, and bringing your e-bike on foreign holidays, your e-bike is covered from theft and common types of damage.
Germany Insurance Quotes
Ampler offers e-bike insurance for €120 per year, but it's limited to Ampler bikes less than two years old. This is great for Ampler owners- especially with an easy sign-up process in an app, but not useful for anyone else.
So I ran a sample check in Check24, which is one of the biggest price comparison websites in Germany. It makes it easy to get a wide range of quotes for all kinds of insurance, including for e-bikes. Surprisingly, the amount of details required to get a quote is a fraction of the details needed for the above quotes for the US and the UK, despite Germany's reputation for high levels of bureaucracy and paperwork! There were no details needed regarding the owner, such as if I own my home or not.
Here are the sample values I entered to get some quotes:
E-bike price: €3,300
E-bike status: new, bought in June 2020
Location: Munich
The prices for e-bike insurance in Germany start from €7.88 per month, or €94.56 per year, to €16.69 per month, or €200.28 per year.
The following items are covered from these sample plans:
Reimbursement due to theft
Accident and fall damage
Theft of the battery
Reimbursement of repair costs
Depending on which plan is chosen, some optional bonuses include:
Coverage for carbon wheels
Coverage for stolen luggage
Full details of the cheapest €7.88 monthly plan (some of these have fine print, so check the website):
Reimbursement in the event of theft
Theft from a car or bike rack
Theft of individual bicycle parts
Theft of the battery
Theft of luggage and accessories
Requirements for securing the bike
Reimbursement of repair costs
Vandalism
Accident and fall damage
Improper handling / operating errors
Material, production and construction defects
Electronics damage
Wear and tear (scope of services)
Wear and tear (validity)
Battery wear
Free choice of workshop
Some of these items have caveats attached, so have a look at the plans on the Check24 website for full details.
Do I need Insurance for my E-Bike?
Having insurance for your e-bike is not mandatory in most countries. However, since e-bikes are high-value, easy to steal items, having e-bike insurance is a good idea, particularly if you are forced to park on the street for commuting or you live in an area with lots of theft.
What are the benefits of having Insurance for my E-bike?
Peace of mind against theft of your valuable property – your insurance will pay out the cost of replacing your e-bike
Knowledge that accidental damage to your e-bike is covered, such as collisions, falls or other damage
In some insurance plans, vandalism of your bike is covered, even if the e-bike itself is not stolen. This is very useful when you cannot avoid parking your bike in public areas
In some plans, the cost of spare parts – which can be very expensive on some e-bikes – are covered. This means if your chain breaks, the replacement cost is covered
Knowledge that your e-bike commuting and casual riding activities are covered– often homeowners, renter and auto insurances offer very limited e-bike coverage
Medical costs can be optionally added to many plans
Roadside assistance can be optionally added to many plans
E-bike insurance is available and affordable, will fill the gaps in your existing policies
As we have seen, specialty e-bike insurance is readily available in most countries and is affordable compared to the cost of a full bike replacement. Since homeowners insurance may only cover items up to a certain limit – for example, up to $1000, but your e-bike's value is $3000 – often there are gaps in homeowners insurance. This means you are $2000 out of pocket if the bike is stolen or damaged.
Additionally, some homeowners plans only cover theft or damage that occurs on your property, when the e-bike is securely locked in a shed or inside your home. If your own home insurance policy has this stipulation you likely probably won't be covered if your e-bike is stolen from a public bicycle stand in a train station, office car park or public street.
E-bike insurance is flexible to cover different use cases
As we've seen, there are various options which can be selected, depending on the level of cover that you need. They include:
Medical costs coverage
Coverage when traveling abroad
Coverage for public liability
Personal accident coverage
Third-party liability cover
Commercial usage (e.g. deliveries)
Competitive usage (e.g. professional or ameteur racing)
Spare parts coverage
Repair cost coverage
Insurance coverage for theft of luggage
Roadside assistance
Conclusion
As we have seen, e-bike insurance is readily available for most e-bike users, whether you're in the US, the UK, Germany – and indeed most places where e-bikes are available for sale.
Even though having insurance is not mandatory, it's a great idea to have it. You will never have to face the nasty shock of replacing an expensive e-bike in the face of a theft, and you have peace of mind especially if you regularly have to park your e-bike in a public area, such as a public street, in a car park at your workplace or in a bus or train station.
The cost in the US starts from around $100 upwards per year. The cost in the UK starts from around £120 per year. It cost around €90 per year and up in Germany.
Insurance coverage is available to cover theft, which is the biggest concern for many, and also accidental damage, falls, and sometimes includes the replacement cost of components, even luggage. It sometimes includes the cost of repairs as well. There are many optional extras available to cover legal liability, medical costs, third party liability, and more. There are options to include special uses such as using your e-bike in competitions, and for commercial reasons like for deliveries.
So there are insurance coverage and options available for almost any scenario, so you have peace of mind.
Happy riding!