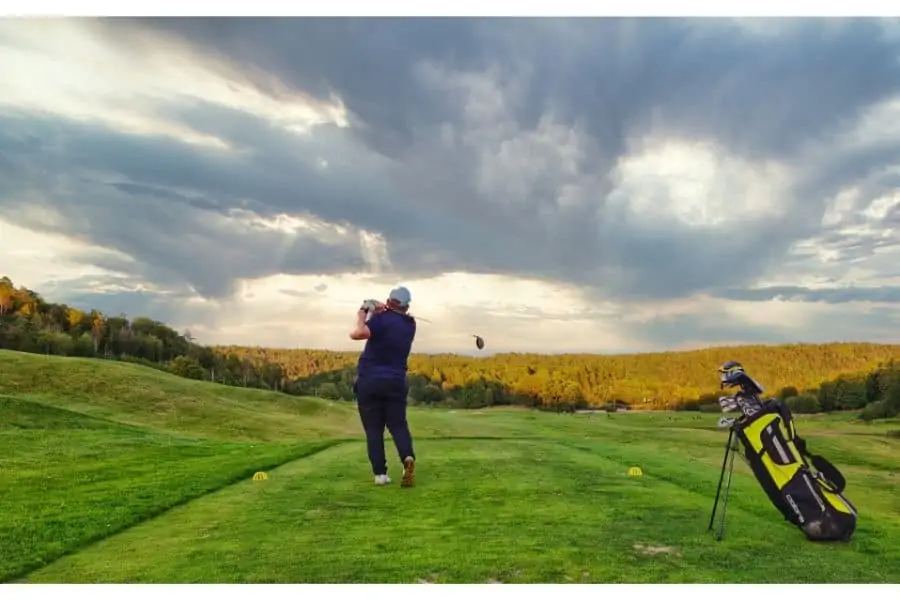 Today we explore an unusual topic- is it practical and feasible to take golf clubs with you on an electric bike? As an avid e-bike owner and someone who golfed in my childhood, I wanted to explore the combination of these two hobbies. So let's explore the options and the benefits of using an electric bike to carry around your golf clubs.
What are the benefits of using an E-Bike to Carry Clubs?
If you're anything like me, you've never heard of the possibility of using an electric bike as a transportation method on the golf course. However, if you think about it, the exploding popularity of electric bikes is bound to make its way into all sorts of transportation niches, including golf. There are some significant benefits to using an e-bike over other methods for transporting your golf clubs:
You can drastically speed up your round of golf, compared to playing a round on foot or even compared to a traditional golf cart. E-bikes frequently can reach speeds of 15-20mph which is much faster than the average golf cart
The maneuverability of e-bikes means you can park almost anywhere on the course, so you can zoom up to your ball and seamlessly continue your game
There is a multitude of options and accessories that you can attach to your existing e-bike, allowing you to combine two exciting hobbies!
If you don't own an e-bike, you can even buy special models that are specially designed around carrying a golf club bag
With proper tires, such as fat tires or wide mount bike tires, an electric bike will not mark the fairways as it's lighter than the average golf cart
There are significant exercise benefits to cycling on an electric bike, it's a good form of cardio and burns fat
Depending on how you choose to carry your golf bag, you may be able to cycle from home to the golf course, getting even more exercise along the way and avoiding parking headaches. You avoid unloading and loading your clubs from your car too, saving more time for enjoying the game instead. By cycling to and from the course, you get additional health benefits and will arrive in a mentally relaxed, focused state – ready to attack those fairways!
Using a Golf Bag Carriers for your E-Bike
Attaching a golf bag carrier to an e-bike that you already own is a wonderful option, not to mention a cost-saver for those who wish to utilize their existing electric bike.
The video above demonstrates the ease of use and practicality of the Divnick e-Bike Gold Bag Carrier. It's mounted onto the frame of the e-bike, and actually folds out in seconds by hand when parked next to your shot location, and turns into an instant kickstand – supporting not just the bag but also the e-bike too, no separate kickstand is required. You take your shot, hop back on the e-bike, and when you set off again on the e-bike the bag carrier automatically tilts back into the vertical position. It doesn't get much quicker or more convenient than that!
Another great option is to use a heavy-duty rack that attaches to your rear rack, and securely attach your golf bag to that. That's what electricbikereview forum member 'BillH' did, attaching his golf bag to a mini rack from 2x2cycles (2x2cycles link). This proved to be an ideal option for transporting his golf bag and clubs along on his fat-tired, folding e-bike.
Using a Golf Bag Trailer with your Electric Bike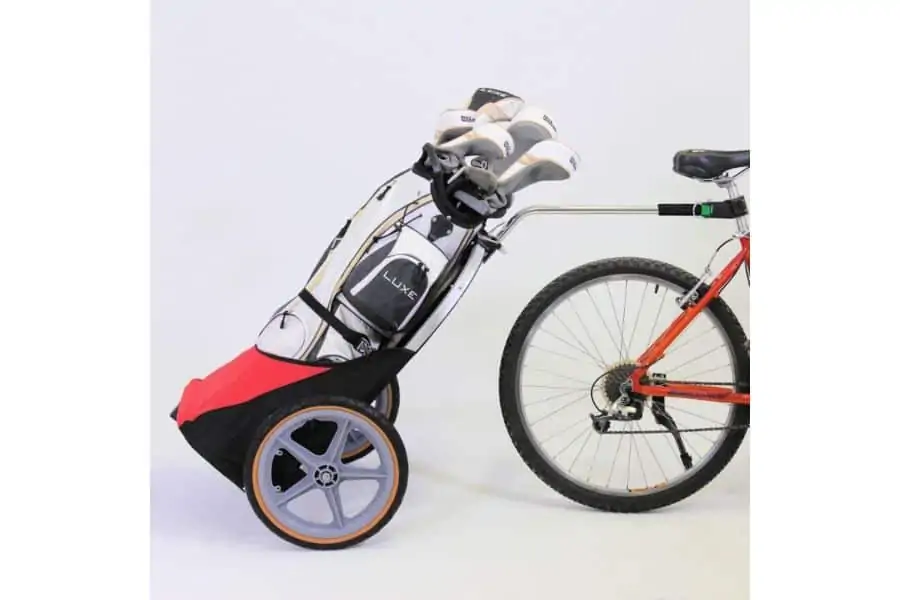 You can attach a special trailer to your bike to enable you to carry all of the clubs that you need, on an electric bike or traditional pedal bike. Typically, e-bike trailers attach either to the seat post, as pictured above, or to the e-bike frame itself near the rear wheel hub. The great thing with trailers is that they are detachable when not in use, and because the wheels rest on the ground, they will not unbalance the weight distribution on the e-bike frame itself.
You should still exercise caution when turning however as a golf bag is quite top-heavy. You don't want your precious clubs to fly out so try to put a rain cover or other material over the top of them if this is a concern. Caution is also advised when riding through trees or bushes, as you don't need your clubs to snag on a branch.
The trailers are typically made out of metal and have two large wheels, so they're stable enough even if there is some rough terrain involved – but still lightweight for ease of use and portability. There's plenty of room for all your clubs, not to mention room for extras like water bottles, rain jackets, umbrellas, and your all-important scorecard.
The model pictured above is from Wicycle, you can get more details on their website. This model in particular features a quick hitch, a kickstand, and handle grips for comfort and convenience.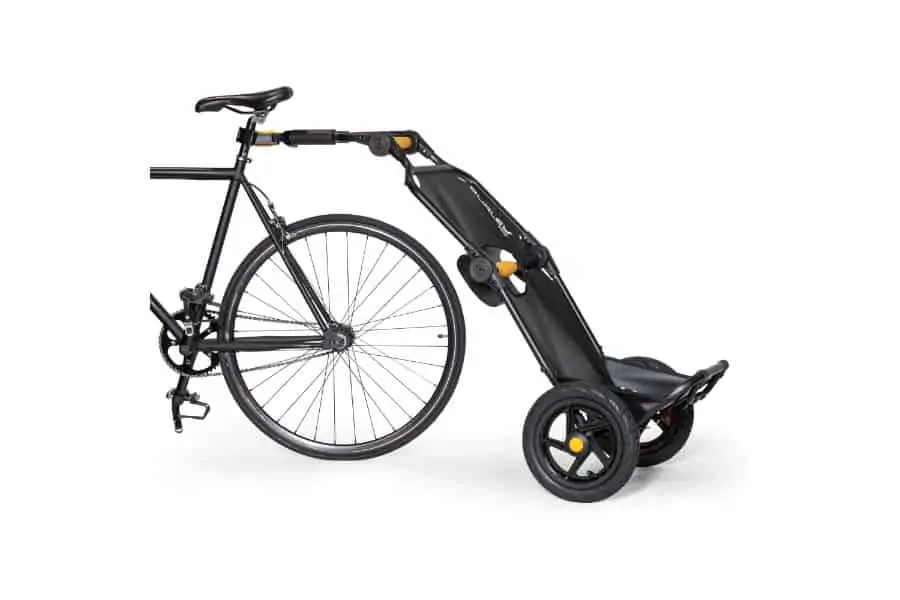 Another interesting e-bike trailer to consider is the Travoy trailer from Burley (link to Burley.com). This is a heavy-duty bike trailer that can carry loads up to 60 lbs / 27 kg. Although strictly not a trailer designed specifically with golf bags in mind, its robustness, size, and convenience means that with some imagination, and some bungee cords or straps (Amazon link), you could use it to carry a golf bag around the course. Simply strap your golf bag near the top and near the bottom with strong straps, test it out to make sure it cannot wiggle around, even on bumpy ground, and you're good for your next round of golf! Note that this is not an officially endorsed use of the Travoy trailer, so use this method at your own risk.
Advantages of the Travoy trailer:
Multipurpose – use it for any kind of cargo, like your weekly groceries!
Quickly removable from your e-bike when it's not required
Heavy-duty design and quality construction
Capable of hauling heavy, bulky items
Folds away neatly for storage in your shed or garage
Purchasing an E-Bike with a Built-In Golf Bag Carrying Function
There are some exotic options on the market for discerning golfers or golf course owners who wish to have a premium option for transporting clubs around the course.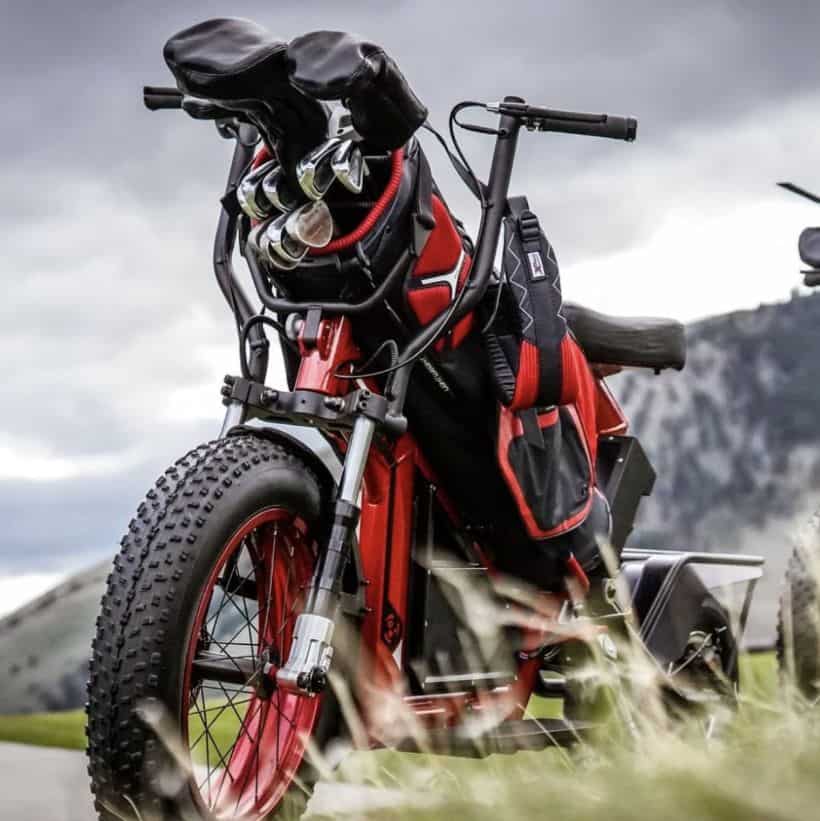 The Finn Scooter is a dedicated e-bike for transporting your golf clubs around the fairways, quickly and conveniently. This is a premium product, aimed at golfers for whom money is no object and wish to speed up their round of golf. For course owners, this is also a great idea- as they can fit in more tee-offs into a shorter time frame, thereby boosting their revenue for the day. Great for taking advantage of summer weather!
You can get an idea of what it's like to jump on this machine from watching this video:
Advantages:
The Finn Scooter is very fun to ride! You'll want to get out on the course more often with this machine
Getting familiar with driving this e-bike is quick and easy
It drastically speeds up rounds of golf
For course owners, speeding up rounds of golf translates into an increased amount of players teeing off, therefore more revenue
Conclusion
E-bikes are working their way into all kinds of niche uses, including even on the golf course. Using an e-bike for transporting golf clubs provides all sorts of additional benefits including exercise for the golfer, drastically sped up rounds of golf, an array of available e-bike golfing accessories and the possibility of using an electric bike for the entire trip, not just around the fairways.