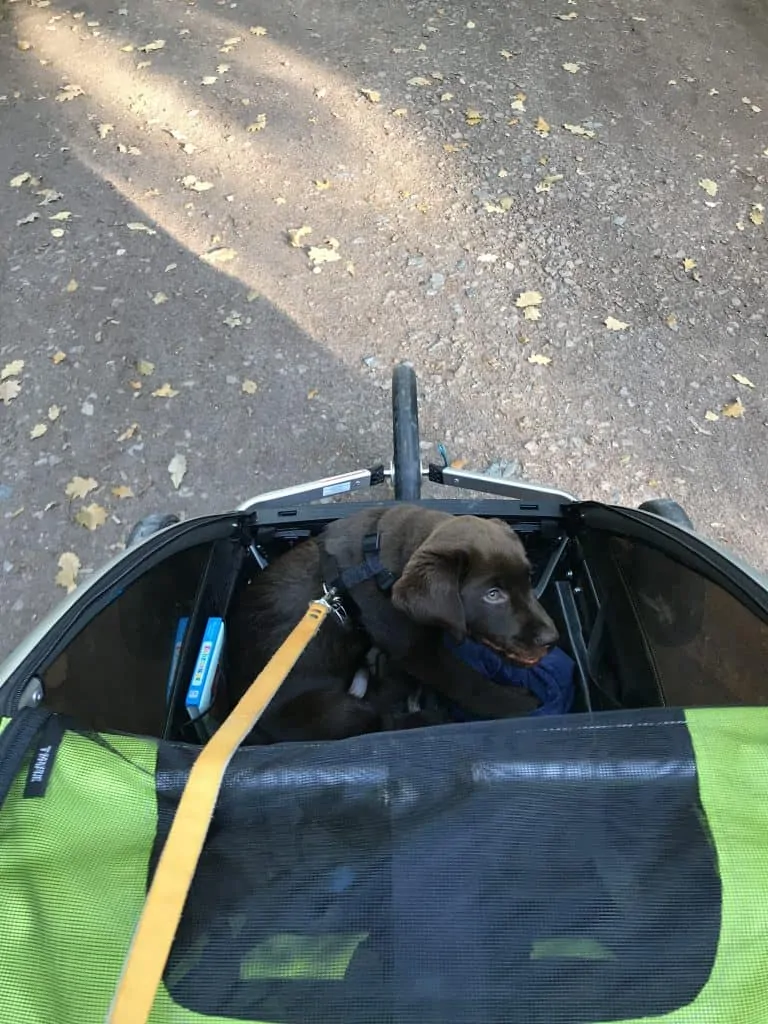 Recently I've considered getting a dog, so naturally I was curious about my options for exploring the great outdoors with a dog in tow. After doing some research, there are various options, including a dedicated bike with a built-in section to hold a dog, running the dog alongside the bike with a leash, or getting a dog bike trailer. There are pros and cons for each approach. I asked around for some advice from friends and settled on the idea of a dog bike trailer. I hope this advice is useful to you.
A Thule bike trailer is a fantastic, flexible method of transporting your dog with an e-bike. There is an attachment which connects the trailer to your e-bike, enabling you to simply tow the trailer behind the bike. It allows ample room inside for small to medium-sized dogs and has plenty of leftover space for your belongings and even groceries. It can be pushed on three wheels as well, in addition to being used as a bike trailer. It's extremely well designed and built, and unlike some other bike trailers, it's rollover safe.
For practical, hands-on experience from real-world usage of this trailer, read on below. You will discover various situations where it comes in really handy!!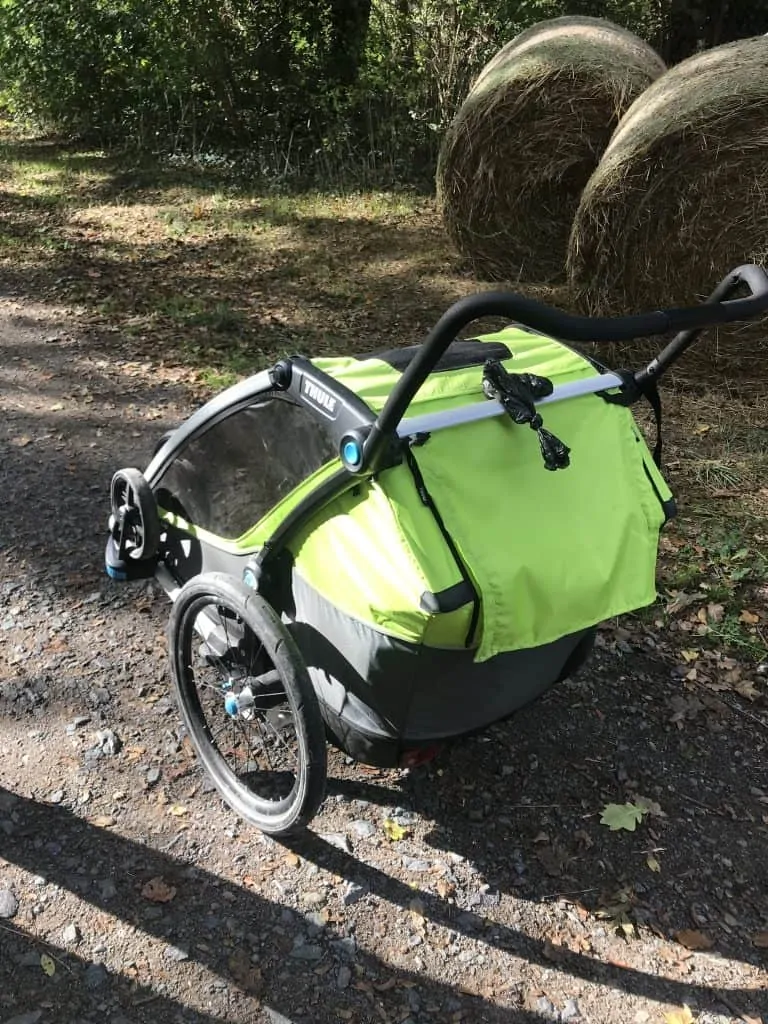 Thule Bike Trailer Advantages
I've tested a Thule trailer, and it's fantastic. The model in question is a Thule Chariot Cab. The biggest advantage is its versatility- you can have a small or medium-sized dog in the trailer, you can strap in a small child in a dedicated seat, and there is ample storage room for a bike ride to the supermarket with or without a dog inside.
The idea of an e-bike trailer also has advantages over the other options for transporting your dog. If you buy a bike that is dedicated to carrying a dog, you are locked into using it with or without your dog! Therefore, having a trailer allows you the flexibility to use it only when needed. Similarly, riding your e-bike with a dog running alongside on a leash has drawbacks compared to the trailer- the most obvious one being the danger of the dog getting hurt.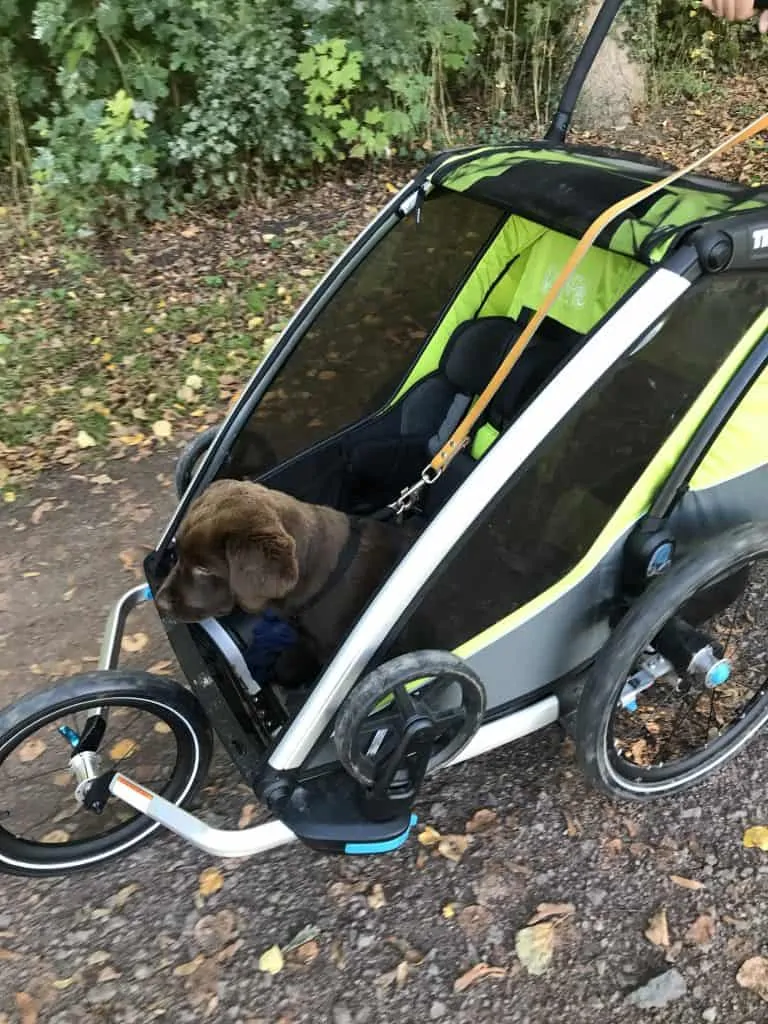 How to Attach a Trailer to an E-bike
Using the Thule trailer with your e-bike couldn't be easier. Simply use the bike attachment arm (included with the trailer), attach it to the slot on the front of the trailer. Then use the included instructions to attach the other end of the arm near the rear wheel of the e-bike. You can get a different perspective of how this works below.
After the trailer is attached, you simply ride the bike as usual, taking care to give enough space riding around in corners and tight spaces to accommodate the extra width of the trailer.
Versatility
On the front of the trailer, there are two wheel struts are supporting the front wheel, which is completely removable. The purpose of the front wheel is for walking or jogging – effectively using the Thule as dog or baby carrier, in addition to holding groceries or other belongings. As mentioned above, when the front wheel is removed, a front attachment arm for a bike can be inserted into place. This turns a three-wheel transporter/baby stroller into a bike trailer.
Additional versatility can be achieved by adding accessories, from cup holders to more exotic items – even ski attachments are available! Check out the Thule website for more information and ideas.
Transporting the Trailer in a Car
Should you wish to go exploring further afield, stashing the Thule trailer in a car trunk is, of course, a viable option. The wheels come off, the trailer partially folds down, the rear handle folds down, thereby taking up less space in the boot. This allows you to take the trailer to national parks, forests, bike trails, beaches, mountains or holiday destinations further than you can comfortably travel on the e-bike.
Folding down the trailer and loading it into the boot takes about 30 seconds – 1 minute when you're familiar with the process. You can lift it inside with one person, but having a second person makes the job easier. Most hatchback cars, estate/combi/station wagons or SUVs should fit the trailer comfortably. It might be a struggle to fit it inside some saloon/sedans, depending on your boot dimensions. Check the table below for the full list of dimensions.
When folded in the boot, the trailer takes up considerable space, but there is still sufficient room around the trailer to stash smaller items such as water bottles, jackets, snacks, kids toys, and other items needed for a cycle or a hike. When folded down, the trailer is low enough so that it does not obstruct the drivers view through the rearview mirror.
Thule Chariot Cab Weight, Dimensions and Technical Data
| | |
| --- | --- |
| Load capacity | 45 kg / 99 lbs |
| Folded dimensions | 110 x 80 x 46 cm / 43.3 x 31.5 x 18.1 in |
| Trailer weight | 16.5 kg / 36.4 lbs |
| Shoulder width | 57 cm / 22.4 in |
| Seat height | 71 cm / 27.9 in |
| Compatible door width | 80 cm / 31.5 in |
| Seat belt type | 5-point |
| Meets the safety standards | ✓ |
| Number of child seats | 1 or 2 |
| Color | Chartreuse / Dark Shadow |
| Model number | 10204003 |
With the bike trailer in the boot, you can bring your e-bike or bikes on a bike carrier hitch in order to explore the region by bike.
Having an e-bike and trailer with you on holidays allows you to keep your dog entertained and happy as you are on holidays. It also encourages you to get more exercise. You can have peace of mind knowing that you are not sending them to a kennel.
Using the Thule Trailer for Groceries
My friends report that groceries are a perfectly viable option for the Thule trailer. Cycling a short distance to the shops, locking up the e-bike and trailer outside, then returning and filling up the trailer with groceries is a great option to replace unnecessary, wasteful car trips, and add fresh air and exercise to your daily routine at the same time. As you can see from the table above, the trailer is rated to carry at least 45kg (99lbs) worth of items, which allows for quite a lot of groceries. You can stash your dog in the trailer on a leash while you shop for added security! 🙂
This is a very straightforward way of reducing your car bills, getting exercise and helping the environment, all the while spending time with your dog.
One thing to bear in mind is that having a nice e-bike plus a nice trailer is an attractive target for potential thieves. Check out this information on e-bike GPS trackers for one preventative measure and general bike theft prevention tips that you can take.
Conclusion
The Thule Chariot Cab is a highly practical, versatile bike trailer for transporting your dog on your e-bike adventures. You can transport small to medium-sized dogs with it, alongside a small child and additional supplies, and even use it for dedicated trips to the supermarket. It includes multiple attachments to support its use as a bike trailer and for walking and jogging. It folds down easily to fit in the trunk of the car. Therefore, it's a highly recommended purchase to greatly increase the practicality of your e-bike, and as a great method of transport for your dog 🙂
Happy riding, with your dog in tow!