E-bikes are not a cheap hobby, even at the more affordable end of the market. Today, we will take a look at some of the most expensive e-bikes in the world. These beasts are insane works of engineering, and are some of the most high performing e-bikes in the world – all available for a very hefty price tag!
Full list of the Most Expensive E-Bikes in the World
This curated list contains e-bikes that you can purchase or were actually sold on the market in the past. This matters, as sometimes boutique manufacturers announce vapourware concept e-bikes for PR reasons, that are actually not on the market.
Audi e-bike
Mondraker Crafty Carbon RR SL
Lapierre eZesty AM 9.0
Specialized Turbo Levo SL
Focus Jam2 9.9 DRIFTER
Specialized Turbo Creo SL
Trek Bicycles Rail 9.9
Riese and Muller Superdelite Mountain
Riese and Muller Load 75
Stromer ST5
Special bonus item – read below!
What Makes This List of the Most Expensive E-Bikes so Special?
(Apart from the price of course!)
These high-end e-bikes are both high performing – for their size, weight or intended use – and/or lightweight. High performance is delivered with top of the line motors from suppliers such as Bosch CX line and Shimano. Long-lasting batteries are included, to enable maximum performance over long distances or scaling demanding mountain trails. Weight is reduced by building the frame from lightweight, specialized materials such as carbon fiber- which drives up the cost. Some of these bikes are custom made, meaning that the frame or other components are not reused from other models, which of course means that custom design, development, testing and manufacturing are needed, all of which add to the cost.
Several of the most highly regarded e-bike manufacturers make this list – Specialized, Trek, Mondraker, Riese and Muller and more, which is not surprising, as hardcore enthusiasts trust these brands to delivery on their promise.
Audi E-Bike
Price: $20,000
Country of origin: Germany
Top speed: 80km/h
Noteworthy features: this eye-catching special project from German carmaker Audi is well deserving of a place on the list of most expensive e-bikes. It has a unique custom frame, special wheels, and boasts an insane top speed of 80 km/h and a power output of 2.3kW! Just the performance you would expect from a premium car brand. It has app connectivity and boasts a battery range of up to 70 kilometers.
Mondraker Crafty Carbon RR SL
Price: €11,999
Country of origin: Spain
Noteworthy features: the Mondraker Crafty RR SL is an endurance e-Mountain Bike (eMTB) designed to tackle even the most demanding hills and mountains. It is Mondraker's flagship enduro all-rounder. It boasts a top of the line Bosch Performance CX Gen 4 motor and an integrated, non-removable 625 Wh battery.
Lapierre eZesty AM 9.0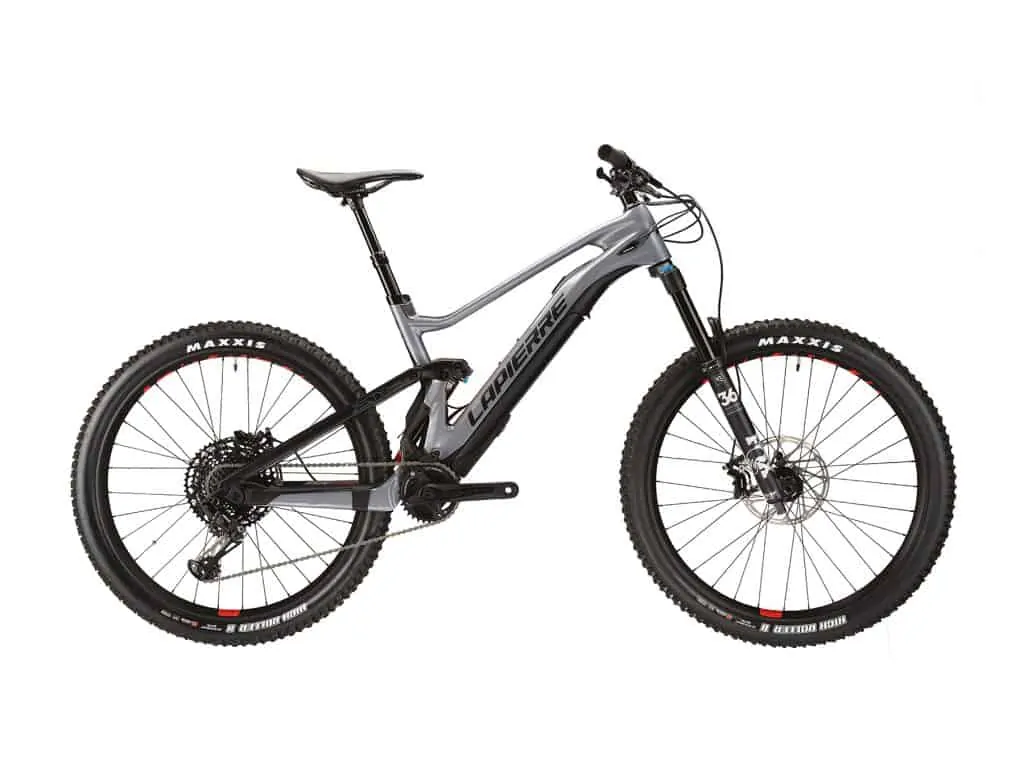 Price: from €5,999
Country of origin: France
Special features: this lightweight eMTB from France packs loads of mountain climbing performance, despite weighing under 20kg as specc'd from the factory. The eZesty houses a FAZUA Evation Drive Pack within it's sleek, organic curved frame, and is supplied by a 252 Wh battery.
Specialized Turbo Levo SL
Price: from €13,999
Country of origin: USA
Special features: American e-bike manufacturer have designed this massively capable, lightweight eMTB that weighs as little as 17.35 kilograms. The Turbo Levo SL's advanced Specialized SL 1.1 motor and 320Wh lithium-ion batteries – neatly integrated into the frame for a stealthy look – give you the speed and range to tackle truly demanding trails.
Focus Jam2 9.9 DRIFTER
Price: from €6,299
Country of origin: Germany
Special features: the Jam2 9.9 DRIFTER 2021 edition has a brand new motor from Shimano, the EP8, or is available with a Bosch CX Performance Line motor. When paired with the Shimano motor, it has an internal battery and an external one, which both have a capacity of 378 Wh. When paired with the Bosch motor, it has an internal 625 Wh battery. It's an endurance machine, built to stand up to the most rugged terrain. It has streamlined looks, especially when the optional external battery is not attached.
Specialized Turbo Creo SL

Price: from $14,250 / €12,499 / £10,999
Country of Origin: USA
Special features: the second e-bike on this list from Specialized, another bike t a price point that you can purchase a decent used car for. There is a lightweight carbon frame, special shock absorbers, a lightweight, mid-mount SL 1.1 motor, 250 Wh internal battery and optional smartphone app for more precise control over the bike's more advanced features.
Trek Bicycles Rail 9.9
Price: from $12,000 /
Country of Origin: USA
Special features: this is a highly versatile eMTB, including a top-notch suspension for all kinds of riding conditions. It sports a wireless electronic drivetrain, Bosch Performance Line CX 250W motor, paired with a massive 625 Wh battery, one of the longest-lasting batteries on the market.
Riese and Muller Superdelite Mountain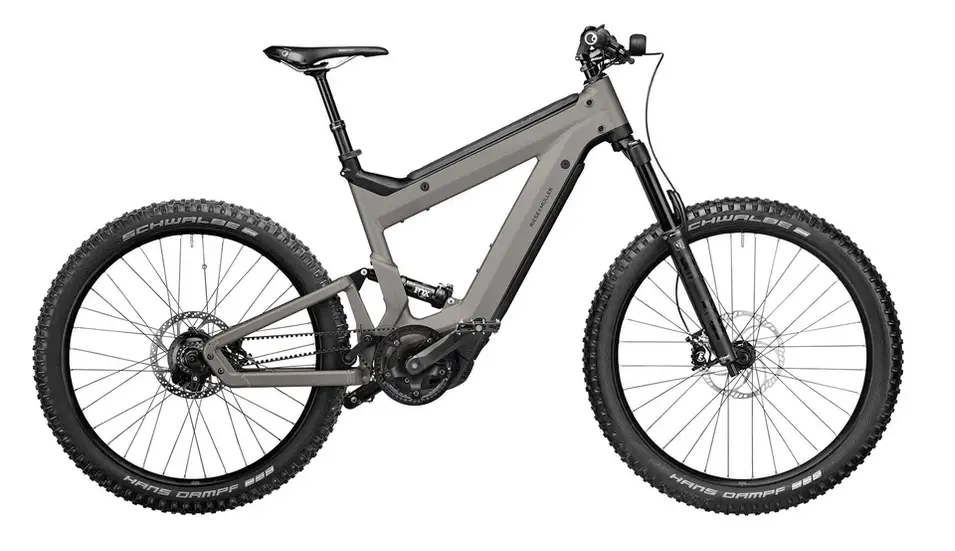 Price: from €7,212.47
Country of Origin: Germany
Special features: A staggering 1,125 Wh integrated battery, suited to all terrains whether its on mountains or steep trails. The latest generation of Performance Line CX motor and Control Technology with full suspension allows you to tackle the most difficult slopes with ease.
Riese and Muller Load 75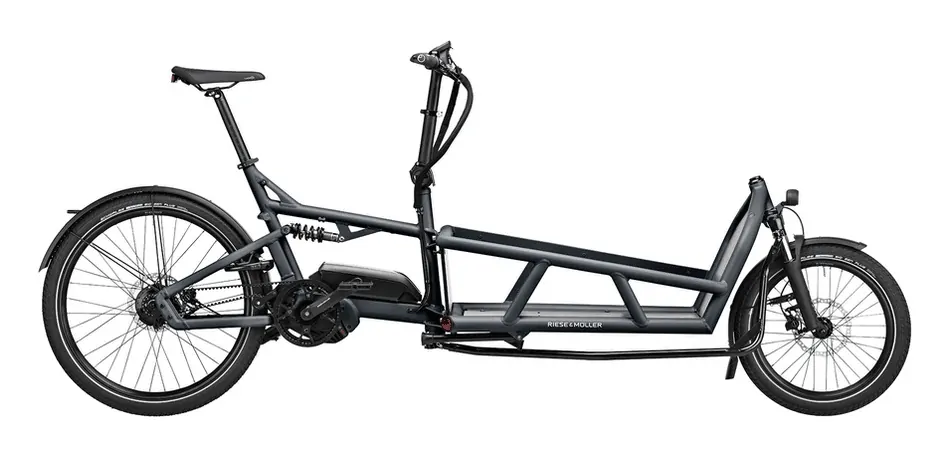 Price: from $8,309
Country of Origin: Germany
Special features: something different on this list from all the e-Mountain Bikes! One exciting new possibility that has emerged in the past few years from the adoption of e-bikes is the ability to haul lots of heavy cargo, or multiple small children along in a cargo e-bike. This is a genuine alternative to using a car for short trips, such as grocery shopping or even school runs. The Riese and Muller Load 75 is one of the most advanced cargo e-bikes on the market. It features a Bosch's CX Performance motor, a 500 Wh battery, and a second 500 Wh battery can be optionally added. One of the standout features of the Load 75 is the ultra-smooth suspension – something that kids will appreciate when cycling over potholed roads. Another possible option is a full cover for keeping children dry over the cargo bay – a great option to enable all year round usage in damp climates. This is certainly a bike where adding lots of options will bring the price total to north of $10,000 quite quickly!
Stromer ST5
Price: from $10,000
Country of Origin: Switzerland
Special features: The Stromer ST5 is an absurdly feature-laden, high-end luxury e-bike. Somewhat unusual for this list, it features a rear hub motor, not a mid-drive motor. It boasts huge torque, and because it's subject less restrictive Swiss laws it allows it's Stromer to push the envelope further. It has a range of up to 180 km (110 miles) and can travel of speeds up to 45 km/h. It features an extremely attractive frame that hides away every single cable from view, not to mention the bulky batteries. It features extremely powerful LED lights and custom made e-bike tyres from Pirelli for optimal grip and performance at high speeds. One feature the ST5 has that is not yet common on most e-bikes is a GPS tracker.
Bonus item: Cake Kalk&
Price: from $14,000
Country of Origin: Sweden
Top speed: 90 km/h / 56 mph
Special features: Ok, strictly speaking, this is an electric dirt bike, not an e-bike, but I couldn't resist including this bonkers Swedish creation on this list. This machine offers truly insane performance – check out the video! The acceleration it offers is truly mindblowing and exhilarating.
The motor outputs a scarcely believable 10 kW of power, for 252 Nm of torque at the wheel. You'll be popping wheelies in no time, whether you want to or not! It was designed as a no compromised machine, positioned between a mountain bike and a motorbike. It features regenerative braking, a feature normally seen on high-end, luxury electric vehicles such as the Tesla Model S.
So there you have it – a look at some of the most highly engineered, high powered, no compromise luxury e-bikes from some of the most beloved bike manufacturers around the world.
I hope you enjoyed this list, happy cycling!