Transporting food and drink is a great use for your electric bike- but how to keep it cold (or warm?). Whether you're thinking of using an insulated bag for food deliveries, groceries, or for a family BBQ, an e-bike cooler bag is a wonderful way of keeping your food and drink fresh, cold, or hot and deliciously ready to eat!
I've ridden e-bikes for years, and have used cooler bags frequently in summer for BBQs, picnics, and quick trips to pick up fast food, so I can offer some perspective on this topic!
A list of recommended cooler bags:
A cooler bag you already own! You can mount this on your existing rack or pop it in your rear basket!
Lixada Insulated Cooler Bag
WOTOW Bike Handlebar Insulated Bag
TOURBON Insulated Bike Pannier Bag
Read on for more details on each of these options.
A Cooler Bag you Already Own!
Frequent readers of this website will know that I love to share low-cost or even free tips for solving electric bike-related issues as much as possible! Yes, it's possible to add endless expensive electric bike accessories to your gear collection, but free solutions are often the ideal way of solving a problem. Plus, it's better for the environment to own less stuff! And as we know, electric bikes are supposed to be environmentally friendly…
My first suggestion is to consider your storage needs – if you only need to transport food and drink a handful of times per year, a cooler bag you already own maybe be just the solution you require. Perhaps you only go to the occasional picnic or BBQ on your electric bike and don't need to transport lots of heavy drinks.
In this case, a small cooler bag (Amazon link), a freezer ice block (Amazon link), and an e-bike rack with a basket are all you need. If you frequently transport items on your e-bike, there is a good chance you may own most or all of this gear already. If not, it's fairly inexpensive to get it. Pictured above is a cooler bag that I happened to have already, and a random freezer block I also already own. If I visit friends close by on my e-bike, I can throw a couple of freezer blocks into the cooler back, pack in the meat, beers and be on my way in no time! It also works for keeping food warm- an insulated bag works both ways. Some freezer blocks can even be heated too- great for keeping a takeaway warm for the trip home from the local fast-food joint.
Below are some pictures of a Styrofoam cooler box. I haven't used this with my e-bike, but you could easily use it on your rear bike rack if you own a similar one to this:
One thing to keep in mind if you're purchasing a new cooler bag or cooler box – make sure the dimensions of the bag or box fit inside your e-bike rear basket. The bag I have above is flexible, so it's easy to fit it inside my bike basket. If your cooler box is loose inside the basket, secure it in place with some bungee straps (Amazon link) hooked onto the sides of the rack or basket.
Ok, that's great, but what if you wish to do food delivery with a food delivery service? (think Deliveroo, Uber Eats, DoorDash, Postmates, or similar services)
Or what if you wish to transport a huge quantity of food in an e-bike trailer, perhaps for a large family BBQ? Read on for more great cooler bags for your e-bike.
Lixada Insulated Cooler Bag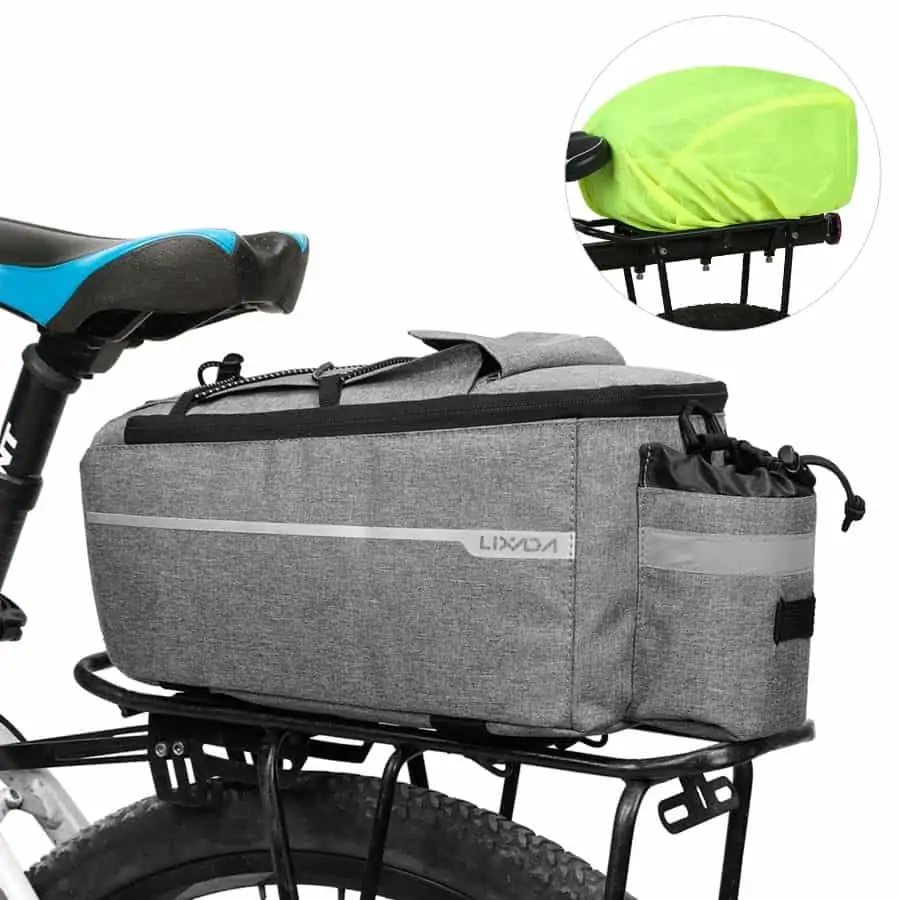 This cooler bag comes well-reviewed on Amazon. The main way to use it is to place it on top of the rear rack. You can carry all kinds of food and drink in its insulated main compartment.
Features:
a slot for a water bottle
an elastic bungee cord for securing items to the outside- handy for rain jackets!
it has a handy taillight strap at the back for hanging a separate taillight to, and it has a reflective strip for extra visibility at night
a removable shoulder strap- which is great for food delivery! You can detach the bag from the rack and carry it inside
The bag comes in several neutral colors so you are sure to find a color to suit your taste. It optionally comes with rain covers also, if you were frequently riding in the rain. The outer material is water-resistant to keep splashes and rain out of the bag. You can use the bag for almost any small or medium-size gear, not just for food and drinks.
As with any bag made from fabric material it's not a great idea to put ice cubes directly inside the bag. A freezer block (Amazon link) would be a better option, and if you're really concerned about most of dripping into the bottom of the bag, perhaps line the bottom with the paper towels.
The bag attaches to the rear rack with Velcro straps, which are adjustable to almost any size of bike or rear rack. So you should be fairly confident that it will fit your particular e-bike.
WOTOW Bike Handlebar Insulated Bag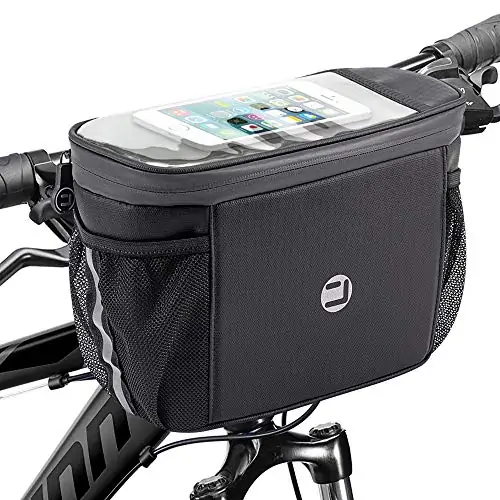 I really like the flexibility in the functionality of this particular bag (Amazon link). If you do not require a huge amount of storage space for hot or cold items, such as a few bottles of beer or cola cans, this may be the ideal solution for you.
The bag is compact and does not take up much space as it is mounted in front of your handlebars. It has 4 L of capacity which is enough for several cans or bottles.
The design is particularly clever, as there is a transparent screen on the top where you could mount your smart phone for easy visibility for using a GPS app. You could even fold up a paper map and inserted into this slot.
The sides of the bag have a reflective material added visibility at night time. The outer material of the bag is also water resistant, keeping the items inside dry.
As with the other bags on this list you can use it for storing almost any smaller items like sunglasses, smartphones, tablets, keys, bike tools flashlights, and even compact folded rain poncho should fit. There are also net bags on the size of the main bag, very handy for loose items that are ok to get wet, such as sunglasses.
The installation of the bag on your handlebars Is simple, only need to do is to wrap three straps around handlebars and the steering post, and secure them in place with a Velcro straps. Also avoid scratching your valuable e-bike.
TOURBON Insulated Bike Pannier Bag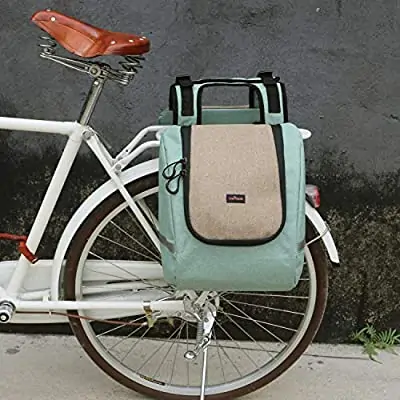 This is an insulated pannier bag (Amazon link) designed to hang either side of a rear bike rack. It has two clips attached to the back rack of your electric bike. This means you have a pair of bags which can both be used to transport hot or cold food and drinks. This gives you extra capacity compared to some of the other bags on this list.
The Zip fully seals on both bags seals the food in for freshness. This makes the bike ideal for trips to the grocery store, having picnics, and traveling to sporting events. You could also use it for transporting your lunch during commutes to and from the office.
The bag is made of water resistant material, so it should keep items inside dry. Users report that the bag function is quite well to keep food cold, so the insulating properties work quite well.
Bear in mind that you will need to have a bike rack that you can attach the hooks to, but it may not fit every size of bike rack. Amazon has a generous return policy, so if this is a concern, could always return the bag and purchase an alternative without any issues. You also have the option to just use one bag at a time if you don't require both. It's easy to remove the bike from the clips, so the bag is quite portable.
Conclusion
There is an array of cooler bags available on the market to suit many use cases. I hope this list gives you some good ideas. You may even be able to use an existing cooler bag that you have at home on your rear rack or on your electric bike basket, alongside a freezer block and some bungee cords! If not, there are handlebar mounted cooler bags, large,rear rack mounted cooler bags and even a pair of pannier insulated cooler bags available.